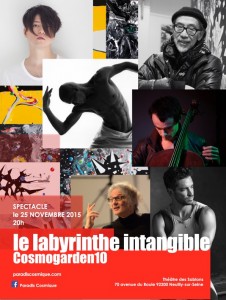 An exhibition of a Paris based Japanese painter, Aki KURODA will be held at the theatre des Sablons of the City of Nuilly-sur-Seine from the 17h October to 28h November 2015.
The title of the exhibition, « COSMOGARDEN » is also used as a name of a series of a fluxional interactive art spectacles/installations which KURODA has been organizing together with various Artists such as Dancers, Actors, and Musicians since 1992.
The series were constructed together with Several myths which KURODA has been using as his concepts for his work in different medias and the audiences were let to enter and indulge in the space with liberal imaginations and perceptions of their own.
COSMOGARDEN10 "le labyrinthe Intangible (Intangible Labyrinth)" will be a first collaboration of one of the best artists of their divers background from Japan and France : 1 Painter, 2 Musicians, 2 Dancers, 1 Poem Performer.
This passage of the labyrinth will bring the audience to the fluxed cosmic garden.
In additional, COSMOGARDEN10 is planned to continue to 11, at the International Fashion and Photography festival of Hyères in April 2016, with the support of the exchange committee of France and Japan and the city of Tokyo.
As declared  by the Agency for Cultural Affairs, Japan awaits to be known as a cultural country for Tokyo Olympic 2020. For this objective, the government hope to organize cultural or art projects of high qualities which the concept of COSMOGARDEN10&11 is perfectly suited for. This unique project of emerging 7 artists from different background is seen by many intellectuals as not only a mare comprehensive international cultural exchange but also a new edge to the next generation.